Playworks New England
Playworks helps kids stay active and build valuable social and emotional skills through play.
About
All kids deserve the social, emotional, and physical benefits of play. We help schools and youth programs create healthy play environments where every child can join in.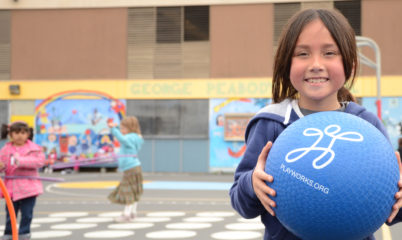 Latest News
---
August 4, 2023
This year was the first time since the pandemic that recess started to look like recess again – where everyone could play together, in one space, no exceptions. The presence of Playworks to guide this transition back to "normal" play was vital in helping kids feel safe and included in their school environment. We are…
Upcoming Events
---
Please check back soon for upcoming events.
A Better Recess
---
Instead of going back to class energized and ready to learn after recess, kids often return upset and unable to focus. We can change this. At a great recess:
Kids are at their best
Kids bring out the best in themselves and each other. They learn the value of fair play, compassion, and respect. They practice key social and emotional skills.
Kids become leaders
They run their own games and settle their disputes quickly (we recommend rock, paper, scissors) because getting along is more fun than fighting.
Kids choose to be active
When all students are included and all students know how to play popular games, every child has the opportunity to discover the joy of active play.
Contact Us
---
Playworks New England
1452 Dorchester Avenue, 4th floor
Dorchester MA 02122
t: 617.708.1734
f: 617.849.5791
Support Play

Playworks New England is grateful for the support of our regional movement partners.
A little goes a long way. Help Playworks give children a good start.