It's not every day that a Playworks #AmeriCorps Coach is honored by the Los Angeles Lakers, complete with a basketball clinic hosted by legendary forward A.C. Green. Then again, being treated to a center court awards ceremony at a Lakers game isn't something a Playworks Coach experiences every day, either.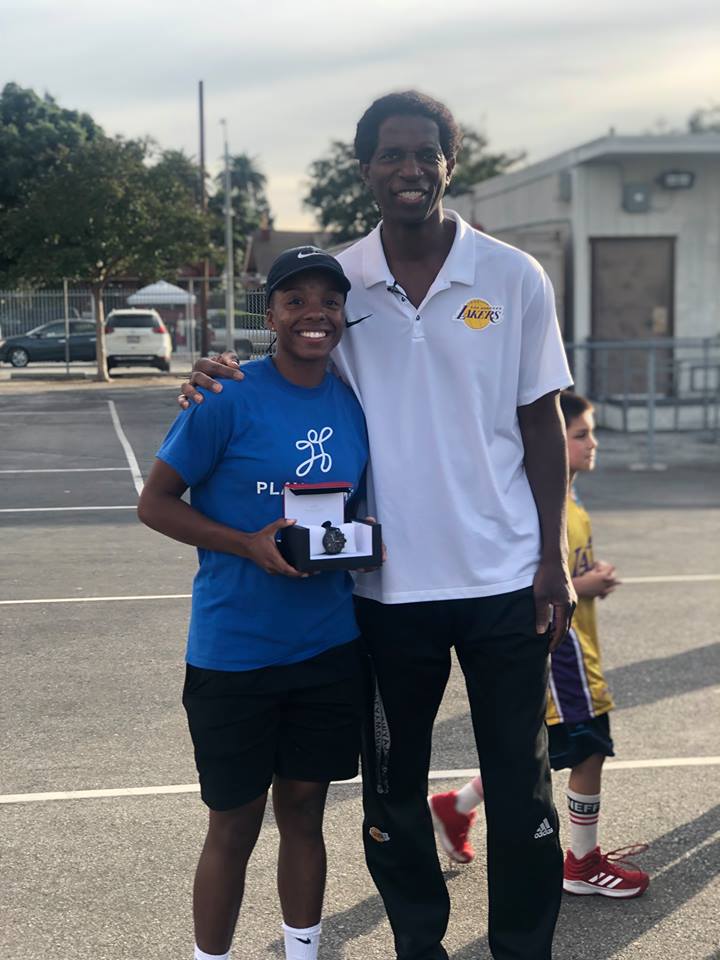 But it's her everyday actions on the playground that earned Skai Thompson these honors. Since becoming a Playworks Coach in December 2017, Skai, known as Coach Hoops, has had an outsized impact on her school's culture and the kids she works with.
Coach Hoops first started at LAUSD's 60th Street Elementary and then transferred to 52nd Street Elementary this school year. Besides helping transform recess at the schools, she coached an all-girls basketball league last fall, is coaching a co-ed soccer league this spring, and is actively mentoring 18 Junior Coaches.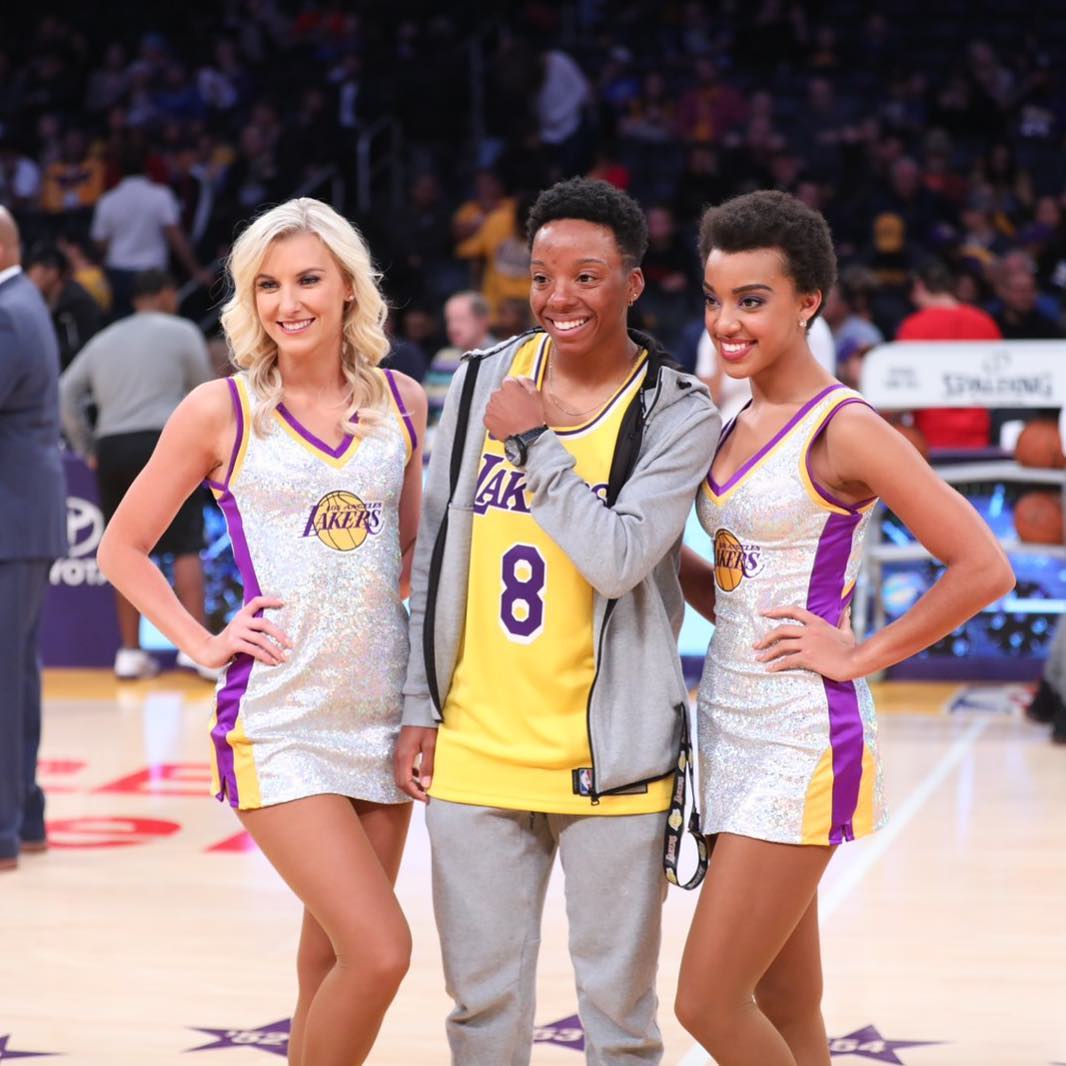 "Coach Hoops is a model for both adults and children of kindness, of compassion, of patience, of respect, of integrity," says Emily Barbee, assistant principal for 52nd Street Elementary. "Our staff watches her and sees the way she interacts with kids, and kids watch her, and she walks the walk in terms of embodying some of the core values that Playworks tries to promote. I think they're already intrinsic parts of who she is as a person. She's a model of how we should treat each other as humans. She has just been a tremendous asset to our school community."
Coach Hoops didn't always have it easy growing up, which allows her to empathize with many of the children at 52nd Street Elementary, an under-resourced school where 100 percent of the students are eligible for free or reduced lunch.
"My grandmother raised me and my little brother, so that allows me to relate to the children on a deeper level because a lot of the kids at my school don't live with their biological parents. They have guardians rather than mom and dad. I've shared with a couple of them that I was in foster care because a lot of the students in my school are in the system, and I like to be that role model that this is not forever. Things do get better."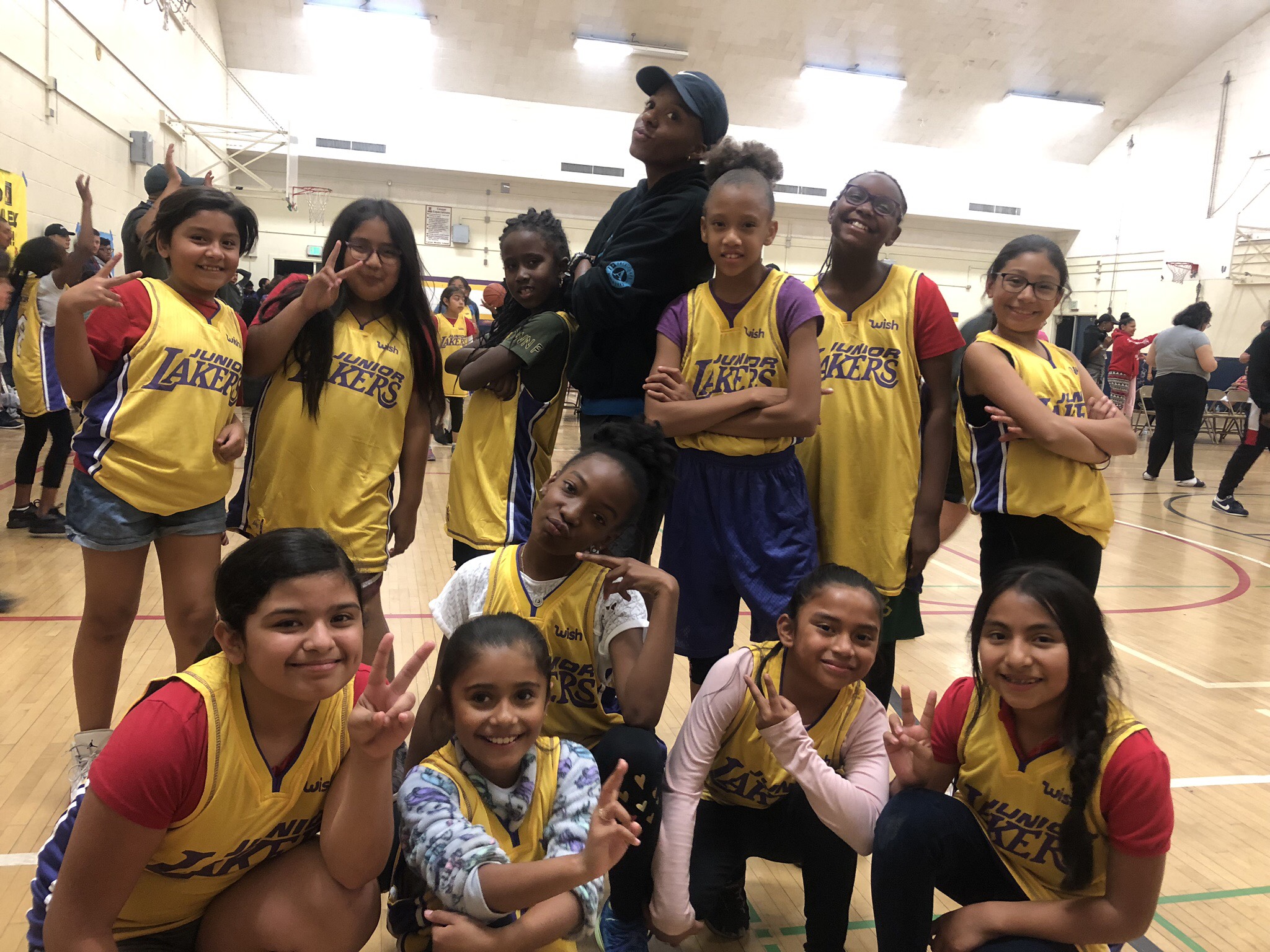 So what exactly is it about Coach Hoops that makes her so special? After all, she must be doing an awful lot right for both the school culture and discipline issues to have improved so dramatically at 52nd Street Elementary, Playworks' Hall of Fame school partner of the year.
"I pride myself on not yelling at the kids and being calm with the more challenging children," she says. "I talk with them with as much respect as I would want from them. And then when they do get upset and start to be a little disrespectful, I just remind them, 'Have I ever disrespected you? I'm your friend, and I would never treat you that way.' And I've found that to work with almost all of them. And if it doesn't work right away, they come back and talk to me and say, 'I'm sorry.'"
Parent and recess team member Paola Armienta appreciates Coach Hoops' approach.
"She always has a smile on her face. I'm learning from her how to manage different kids with different attitudes. The whole program helps us control our kids in a safe way. We're not yelling at them, we're not being rude, we're just making sure that everyone is playing together."
Not surprisingly given her nickname, Coach Hoops was a standout basketball player in high school and college. She played on an athletic scholarship at the University of Arkansas-Fort Smith her junior and senior year, but the experience wasn't always positive. When she was first hired at Playworks, she didn't realize coaching basketball would be part of the job. Now she expects to earn a master's degree in coaching and exercise science from Concordia University in December.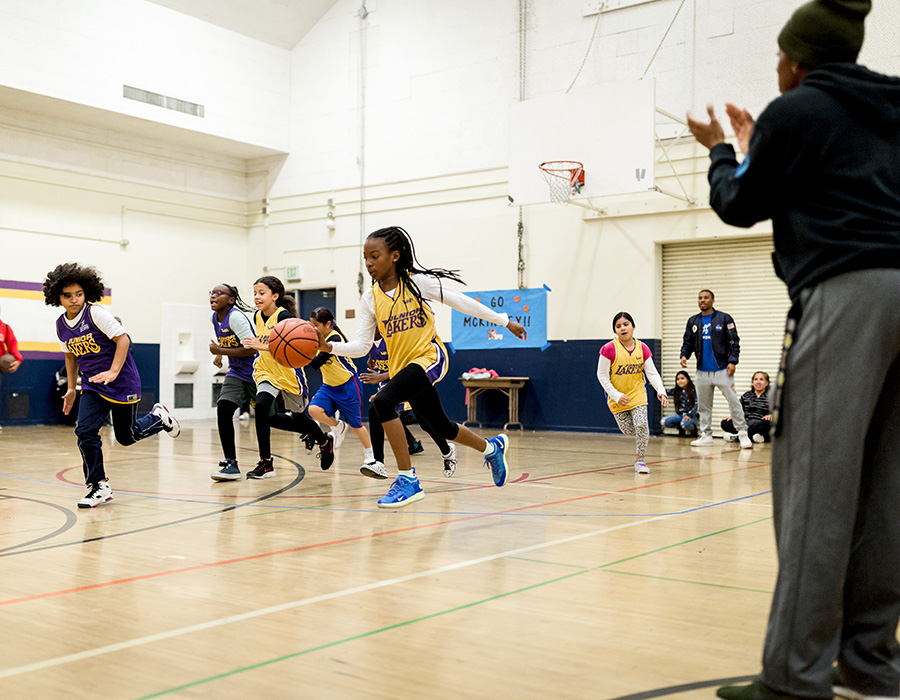 "After a league night, I remember sharing that I never thought basketball could be fun again for me. I had stepped away because I'd experienced so much trauma with basketball. And then I was able to step in and create safe spaces for girls to be encouraged and to be respected because they all deserve dignity, all children. I thought it was powerful to be able to do that because I never thought I'd be coaching basketball. And now I'm going to school for coaching. It's funny how the universe works."
In her piece of the universe, Coach Hoops is making a big difference at her school.
"Being a Playworks Coach has really given me the opportunity to make an impact on a larger level than I thought I could. Finding Playworks, or Playworks finding me, was the best thing to happen because I've been able to just positively change all my students' lives. When they come to school, they know that they're going to get a smile and a high five or that they're protected—that no matter who it is, I will stand up for them."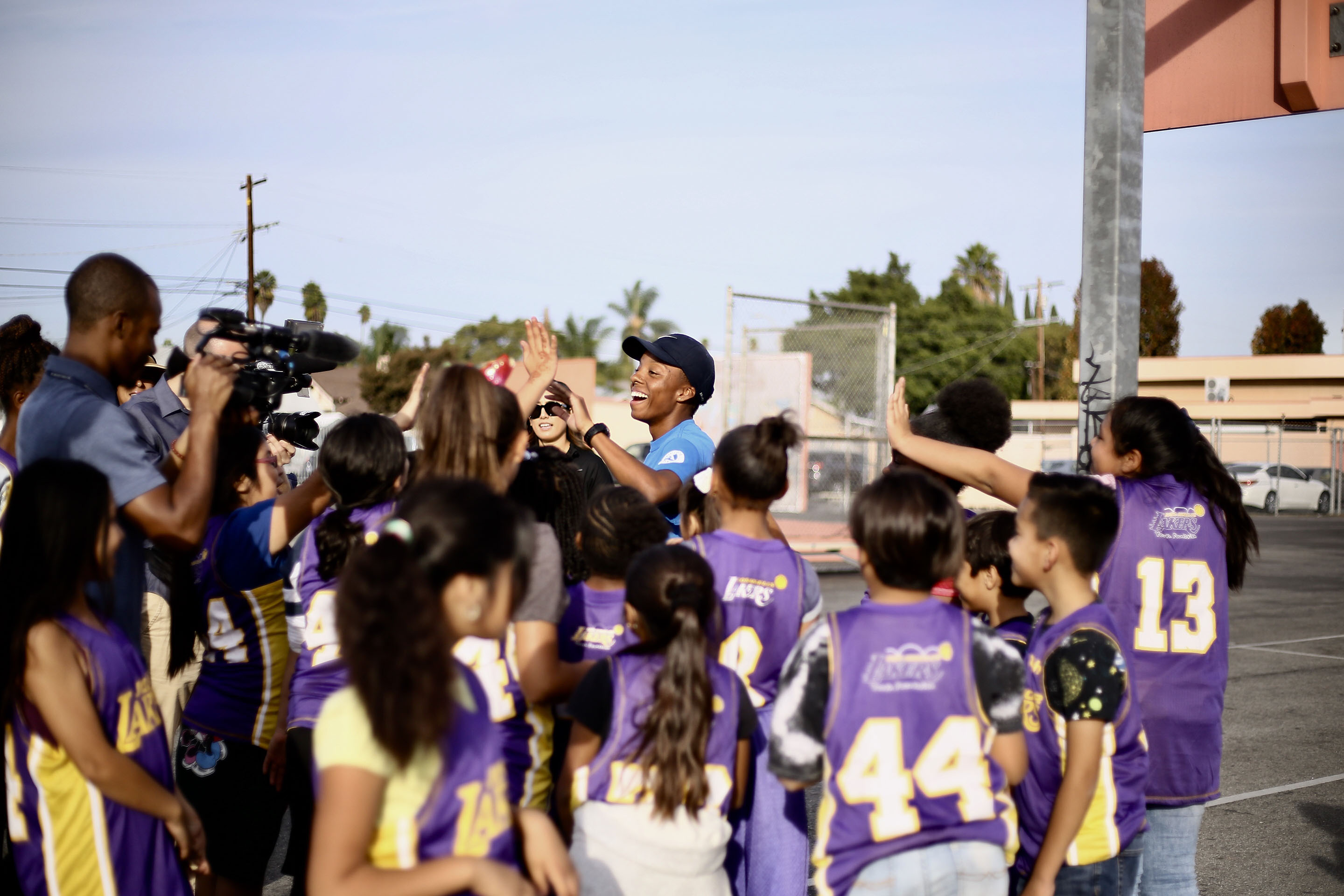 Sometimes, it's the smallest things that bring the most satisfaction. She may have had a once-in-a-lifetime night at the Lakers, but Coach Hoops is rewarded every day by what she experiences on the playground.
"This morning I had CGT (classroom game time) with a 2nd-grade class and after school, I saw them playing the exact same game I taught them. It's just awesome to see my impact that quickly, to be able to look out on the yard and see exactly what I taught."